It's the Plants, Darling, Watch Someone Else Do It
Searching the Internet for good gardening videos for over a year now, I've come to lament their dearth in one major category – ornamental plants. Thanks to Extension universities and a few media-savvy experts, there's plenty of help for new veg-growing gardeners, but if you want to beautify your yard, finding answers on Youtube is much harder. For example, what might be the best-performing shrubs for your garden?
Well, to answer that question I first published a draft video on the subject, then polled the GGVideos Advisory Team for their feedback and answers to the big question: How to inspire gardeners to use the plants and give them enough information to succeed at growing them? The overwhelming response was to provide lots more information, but keep it short.
The resulting video (still a work in progress but hey, you gotta go public sometime) uses still photos only, which makes garden videography much easier. The photos show just the plants (no narrator!) but it's plants at their most beautiful, in gardens, fully developed and often with other plants. In other words, the most aspirational photos I could get my hands on.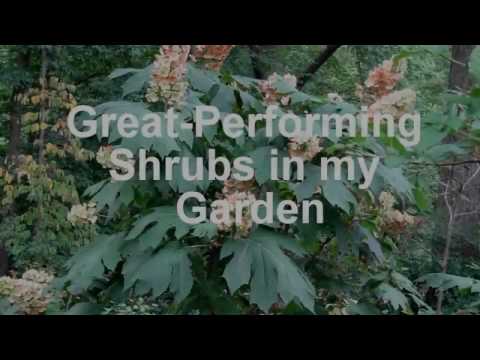 Click through to Youtube and scroll down to the Description for useful links about each shrub, and a bit more about me (in response to another nudge from the team).
A Few Good Plant Videos
Eric Larson, director of Yale's Marsh Botanical Garden, is an expert I trust and his videos for Garden Clips are conveniently arranged for browsing by plant type. (I profiled Eric and videographer Patrick Volk here.)
I'm also a big fan of meteorologist/horticulturist Dave Epstein, whose Growing Wisdom Channel (with over 31,000 subscribers) I recommend often. Playlists by plant group would help the gardener find the information they're looking for. (Hint.)
And it's great to see the industry stepping up, video-wise. Proven Winners has 366 videos on its Youtube channel, and similarly, separate playlists for shrubs and perennials would be a nice addition.
One green-industry expert started his Youtube channel – HortTube with Jim Putnam – just 3 months ago and already has growing advice for dozens of plants. The information is super-useful and exhaustive – well, maybe too exhaustive for today's impatient viewers (and I'm definitely in that camp). So shorter, summary versions for the home gardener would be a great addition to HortTube's offerings. The channel uses playlists to great advantage, though, with separate ones for foundation plants, shade plants, screening plants, natives, and more.
More Ideas?
So now's the time for savvy Rant readers to weigh in. What type of plant video would you watch 'til the end, and what other topics would you like to see covered? Also, do you know of other plant videographers we should check out?
Posted by
Susan Harris
on December 16, 2016 at 8:36 am, in the category
It's the Plants, Darling
,
Watch Someone Else Do It
.